"It was one of several works on the [joint New Gallery Concert Series/Castle of our Skins] program written to ensure that the recall—in some fashion, here, in musical fashion—of ghastly, racially motivated tragedies remains in the collective consciousness…" Keith Powers, November 2017
"… San Martin's quartet opens with a bow to the big Romantic style, to which Sarah Bob's muscular pianism contributed greatly." Radians Re-Assemble for Year 19, Boston Music Intelligencer
"The Nasty Cooperative became both an outlet for our frustrations, as well as an intake of information and neighborly love." JP Gazette, April 28, 2017
"Some days are just amazing – and last week I had one of those days.  I was able to attend an awesome concert and facilitate an amazing discussion with a fabulous group of people in Jamaica Plain, Massachusetts at an awesome event organized by pianist Sarah Bob and her emerging Nasty Cooperative. The Nasty Cooperative was formed when Sarah decided she wanted to do something…The goals were to (1) share some amazing music (2) engage in dialogue about the issues we are facing today and (3) support organizations that they care about…The music is powerful and unifying and the amazing concert brought people together." Christina D'Allesandro of MomsRising.org, March 2017  Full article here.
"David Rakowski's nearly 200 preludes and etudes for solo piano explore the possibilities of the instrument in a variety of appealing ways, characterized in large part by persistent rhythmic drive and energy. Sarah Bob offered three preludes he wrote for her…The performance was exciting and evocative." The Boston Music Intelligencer, March 2017
"'Lift: Chamber Music by Elena Ruehr,' Irina Muresanu on violin, Jennifer Kloetzel on cello, Sarah Bob on piano, Ethan Filner on viola (Avie Records) Inventive music by a composer who never does otherwise. Ruehr pays tribute to friends (including these four musicians) and inspirations…"
WBUR's 13 Best Classical Recordings of the Year, December 27, 2016
"…the four movements are assisted by the pianist Sarah Bob in a bravura display of technique and stamina." South Shore Critic, December 2016
"Sarah Bob has been curating intimate music-and-art shows at New Gallery for sixteen years and each one still sounds as fresh as tomorrow. Walk into the space and you're instantly in a small world surrounded by art with the musicians close by — it's a wonderful tactile place to hear a show." Trill Pick of the Week, May 2016
"…Bob led the way throughout, crisp but also alert to nuance. The entire performance [of 'Trout'], full of thoughtful detail, sounded as fresh as if Radius had just commissioned it." Boston Globe, May 2016
"Sarah Bob's carefully curated New Gallery concerts are an inspiring riot of visual art and music, held strongly together by a unifying concept."
by curator Sarah Darling, Trill's Pick of the Week, May 2015
"…gave the piece an impassioned reading…" Telegram.com, April 2015
"…Bob took command right out of the box…"
The Boston Music Intelligencer, March 2015
"…Thus is music written, above all, for the pleasure of the performers – and the four featured here duly ensure that the performances are never less than pleasurable…" Gramophone, February 2015 in regards to the new release of "Lift, Chamber Music by Elena Ruehr" featuring violinist Irina Muresanu, violist Ethan Filner, cellist Jennifer Kloetzel and pianist Sarah Bob.
New Gallery Concert Series short video featured on Musicovation.com HERE.
January 2015
"There is a good deal of piano writing in this early work [Ludwig van Beethoven's Quintet in E-flat for piano and winds, Op. 16], and with Sarah Bob at the keyboard, we would feel that we were left in competent hands. She delivered delicacy in the Andante cantabile, as elsewhere. Woodwinds welcomed new member Adrian Morejon whose clear-throated bassoon waxed eloquent along with Bob's fine pianism. A cozy, homey Allegro and Rondo comforted and charmed…" The Boston Musical Intelligencer, "Radius Radiates New and Old"  November 2014
"Outlier status notwithstanding, Zorn surrounded himself from the start with brilliant, sympathetic musicians: a point he underscored repeatedly during a characteristically rumbustious preconcert Q&A session…Unsurprisingly, his recent chamber-music scores were avidly embraced by practiced interpreters. The pianist Sarah Bob expertly navigated the Messiaen-meets-Cecil Taylor whorls of "Tender Buttons" (2014), with alert, airy improvised accompaniment from bassist Kirsten Lamb and drummer Eli Rojas." by Steve Smith, Boston Globe "Zorn Honored with degree, vivid performances at Jordan Hall" November 2014
New Gallery Concert Series article by Sarah Bob featured on musicovation.com HERE. October 2014
"…Bob's pianistic feats…After being away on maternity leave, Sarah Bob returned to Radius Ensemble with …nobody move… by Randall Woolf. His aim was to "find the common ground between the menace of the hard-core Hollywood villain and the fearless bravado of the virtuoso pianist, with the audience as helpless victim, too frightened to bat an eye." Bob's achievement was high piano drama at daredevil rapidity, left hand furiously driving a walking bass line and right hand ripping in and out careening over the treble keys. She completely transformed a moderately interesting composition laden with budget chromaticism into an exciting keyboard coup." The Boston Music Intelligencer, October 2014
"Exceptional performers and astute readings produced a touching and fitting tribute to a musical voice too soon lost…Sarah Bob offered "Solo cadenza" from [Lee Hyla's] My Life on the Plains (2010/2012)…With Hyla's blessing, Sarah Bob…compiled the virtuosic solo and chamber passages for piano…From the 2010 chamber work comes this 2012 solo piece…To its everlasting credit, this rendition does not sound like excerpts: Hyla/Bob makes a compelling argument of its own, calling forth a variety of touches and techniques. Bob brought out the complementary voices across the full dynamic range and compass of the instrument." The Boston Music Intelligencer, September 2014
"…That piano got still another workout from Sarah Bob, in a bold performance of the solo cadenzas Hyla composed for her in his 2009 piece for the Firebird Ensemble, My Life on the Plains…One couldn't tell if pianist Bob was channeling Sitting Bull, but her hammering dissonances were certainly the scariest of the night, leaving the nine-foot grand literally quaking in its casters…" Boston Classical Review, September 2014
"…Or there's the demented, schizophrenic piano solo (shades of Cecil Taylor) that interrupts the final movement of My Life on the Plains, providing one of the disc's most memorable moments, as rendered by keyboardist Sarah Bob." Matt Mendez, I Care If You Listen, April 2013
"…By far the most impressive performance was Maurice Ravel's Piano Trio in A Minor. In keeping with Radius Ensemble tradition, one of the performers introduced the trio by providing personal impressions and a smattering of the piece's history. In this case pianist Sarah Bob described the work as if enthusiastically telling friends about a new lover. It was refreshing to hear such gushing enthusiasm about music… At the climax, the musicians furiously and frenetically poured themselves into it, like Ravel must have when he first created it." Peter Bates, November 2012
"The straightforwardness of Bermal's Twin Trio (2005) coupled just right with the natural flair of flutist Ann Bobo, clarinetist Eran Egozy, and pianist Sarah Bob….pianist Bob beautifully related to Bermal's rich and lovely harmonic backdrop… a robust performance. Clearly, Radius players were at the top of their game…" David Patterson's "Radius Shared Sonic Love" of The Boston Music Intelligencer, November 2012
"'Bees and Honey' concert helps create a buzz for photography exhibit: A Hive of Activity" by Joel Brown, Boston Globe, May 2012
"Sarah Bob was the superb pianist."  Matthew Guerrieri of  New Music Box, March 2012
"The ingenious founding director of the New Gallery Concert Series and gifted pianist Sarah Bob has run one of the city's ambitious and delightful music-and-art series for several years, and she and her musicians and artists show no signs of running out of serious talent and imagination." Susan Miron's "Roving with Music and Art" of The Boston Music Intelligencer, January 2012
" [Primary Duo with pianist Sarah] Bob and [percussionist Aaron] Trant played the many tricky syncopated rhythmic-unison passages perfectly in time with one another, in a knockout performance full of exuberance and flair…" David McMullin's "Excellent Collection of Engaging Works" [on the New Gallery Concert Series] of The Boston Music Intelligencer, May 2011
"…[members of Radius Ensemble] produced vintage twentieth-century chamber harmony that enticed and puzzled, as it should — top-notch all the way. Pianist Sarah Bob flooded the riverscape with apt understanding of movement and demonstrative passion for a music she so evidently relishes." David Patterson of The Boston Music Intelligencer, March 2011
"Throughout each movement, the performers maintained their connection to one another; they genuinely understood Brahms' music and the way that their parts intersected. A highlight of the work was pianist Sarah Bob, who captured the character of the Andantino grazioso – Trio perfectly and exhibited brilliant playing in the final movement as well." Sandra Fallon-Ludwig of The Boston Music Intelligencer, November, 2010
"Driving force" Sarah Bob and the New Gallery Concert Series in the South End News, November 2010
If you can read Bulgarian, read review in Kultura! October, 2010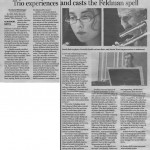 "Trio experiences and casts the Feldman Spell," David Weininger of Boston Globe, September 2010 (see full article at left–click to enlarge. Click HERE to for online Boston Globe article and video of flutist Fenwick Smith, pianist Sarah Bob and percussionist Aaron Trant "Rehearsing a rarity.") "'The first time we [rehearsed Morton Feldman's 'Crippled Symmetry'], I ended 15 minutes before them,' said Bob. 'How did I pace that? What was I doing that was so different from them? And the second time I was five minutes after them. And there's no right or wrong with this. . . . What that says to me [is that] we're always in a different place — physically, mentally. And Feldman really captures that in this beautiful, blossoming sort of way.'''
"Fenwick Smith, Sarah Bob, Aaron Trant playing Feldman's Crippled Symmetry this afternoon … nothing less than a miracle!" Stephen Drury, pianist September 2010
"Flanked by Sarah Bob, piano and celesta, and Aaron Trant, glockenspiel and vibraphone, [flutist Fenwick] Smith and these young players sent us miles upon miles away from the mundane for nearly 90 minutes, non-stop…altogether sumptuously sonic sculpting from every instrumentalist…focus, concentration, and the like were achieved at superior levels. I could not help but marvel at the degree of complete attention Smith, Bob, and Trant unremittingly mustered for so long a time. Their depth of commitment inspired the same of the listener." The Boston Musical Intelligencer Extraordinary Sonic Sculpting from Fenwick Smith at Jordan Hall by David Patterson, September, 2010
"…the pianist is asked to match the sense of play and Sarah Bob obliges easily and cordially.She is obviously as fine an accompanist as she is a soloist."
"Sarah Bob plays wonderfully, reacting equally to the more acerbic passages and to the contrasting lyrical areas." Fanfare Magazine Sept./Oct. 2009 review of Elena Ruehr's CD Jane Wang Considers the Dragonfly
"The performers [of Elena Ruehr's CD Jane Wang Considers the Dragonfly] comprise a first rate team, which effectively conveys Ruehr's semiotic intent…Bob's Swing Set skillfully appropriates a mode de jazz approach: laid-back, never heavy handed, a fine fusion of style, she is equally comfortable as a soloist and accompanist." Tamara Cashour, IAWM Journal 2009
"…[flutist Sarah] Brady, clarinetist Rane Moore, and pianist Sarah Bob making brisk and elegant work of [Ibert's] fluid lines and jazz-flecked harmonic world…
Instrumental lines are frequently shrouded in a kind of sonic haze, punctured by forceful outbursts from the keyboard; tonality is treated like a found object, viewed with a sense of distance.The players Bob, [bassoonist Carlos] Arias, and violist Stephanie Fong – rendered [Sophia Gubaidulina's Quasi Hoquetus] with sensitivity and care." Jeremy Eichler, Boston Globe, March 2009
"The performances by Sarah Bob are excellent, full of character and color…"
Robert Cummings, www.classical.net CD review/September 2008
The Old Photo Box for solo piano by Lior Navok
"'New Gal' Sarah Bob Receives 1st John Kleshinski Memorial Prize"
by Sarah Bob in Vibrations Vol. 32, No. 1 Winter 2008
"I never knew my music could sound so good."
Elena Ruehr, Composer, January 2008
"…joined by…pianist Sarah Bob for Francis Poulenc's 'Sextet,' … the ensemble paid the respect of a robustly dramatic interpretation." Matthew Guerrieri, Boston Globe, November 2007
"Founded in 2000 by the pianist Sarah Bob, [the New Gallery Concert Series is] a refreshing series of modest scale but of vivid imagination…The…audience was thrilled, and, one imagines, so were the organizers of this worthy series." Jeremy Eichler, Boston Globe, April 2007
"Sarah Bob is the Brad Pitt of new music."
Daniel Felsenfeld, Composer, Author and Music Critic, June 2005
"I first became acquainted with Sarah Bob's remarkable combination of intelligence, musicianship and fearlessness at one of her live performances of Cage's Sonatas and Interludes for prepared piano. Her performance was stunning, not only technically flawless, but possessed of a character that was uniquely her own and one that I found refreshing and exciting. After this performance, I became very interested in Sarah's New Gallery Concert Series. This series pairs visual artists with composers and presents both in live concerts. It's a great idea: the audience spends 90 minutes with a collection of visual works that they might otherwise only glance at while listening to first rate performances of cutting edge music. The concerts are great, and Sarah uses her musical expertise to program eclectic, thought provoking concerts with committed first class perfromers.
This is a young woman and a series to watch…"
Elena Ruehr, Composer in Residence, Boston Modern Orchestra Project, October 2004
"Pianist Sarah Bob is a traiblazer when it comes to championing the works of modern composers and combining art media in the process…
Fratres [by Arvo Pärt] is marked by nuances; it requiers thorough musical understanding and delicacy on the part of both instrumentalists. Bob and [Piotr] Buczek are more than capable of the talent and depth required to perform the piece convincingly…
…the performance [of Messiaen's Quartet for the End of Time]…was truly stunning…There are two keys to a successful performance of Messiaen's work: a comprehension of the music on an emotional level and the ability of the members of the quartet to communicate with eachother in executing the piece. Bob, Buczek, [Michael] Norsworthy and [Benjamin] Schwartz do this with apparent ease. Sounds seem to come from nowhere and fade to nothing, which can be attributed to the musicians' shared understanding of Messiaen and his compositional tendencies…This afternoon's rendering of the work was triumphant and peaceful in its own right, and its performers must be commended for that." Katie DeBonville, Northeast Performer, April 2003
"…Ms. Bob pounding the keys vigorously, often with her forearm…[had] great moments of interaction between the keyboard and the taped and electronically altered percussion sounds."
Allan Kozinn, New York Times, January 31, 2003
"…fiery pianist Sarah Bob…" Stephen Beaudoin, South End News, October 17, 2002
"Pianist (and [New Gallery] concert series director) Sarah Bob's top-flight performance was an ideal combination of all-stops-out abandon and sure-footed technical control…" David Cleary, 21ST CENTURY MUSIC, February 2002
"Leaning into the music and slamming her forearm on the piano, she created the sounds of a city street. Bob showed no reserve in expressing the feelings of aggression and alertness the piece demanded."
Lynne Feibelmann, South End News, January 31, 2002
"Pianist Sarah Bob and percussionist Aaron Trant gave [Avoidance Tactics #1 for Piano and Percussion by Curtis K. Hughes] a fire-breathing presentation."
David Cleary, 21ST CENTURY MUSIC, October 2001
"Starting a New Groove," Interview in the South End News, May 2001 (Click here for full article)
"Competition with Attitude!" by Sarah Bob in Vibrations Vol. 25, No. 2 Spring 2001 (Full article )
"Franz Schubert's great B-flat Major Piano Trio [included] Sarah Bob's sumptuous and eloquent piano." Ellen Pfeifer, Boston Globe, January 31, 2001 ( Full article )
"The Third-Prize winner, Sarah Bob, was very convincing in Stockhausen's Klavierstuck V, both in her intelligent analysis as well as in the vivid form and expression she gave the piece in performance."
Ernst Vermeulen, NRC Handelsblad (Holland), March 5, 2001
"Margo McGowan (clarinet), Biliana Voutchkova (violin) and Sarah Bob (piano) brought [Bartok's Contrasts for Violin, Clarinet and Piano] off with brilliance."
Liane Curtis, Bay Windows, November 23, 2000 ( Full article )
"…first class Sarah Bob, [is] poised in the Schuller [and plays at a very] high level…"
Richard Dyer, Boston Globe, March 10, 2000
"Pianist Sarah Bob [is full of] colorful playing and chamber musicianship."
La Cote (Switzerland), July 1993
"Violinist Biliana Voutchkova and pianist Sarah Bob gave [Insult to Injury, written for them by Curtis K. Hughes] a terrific, hard-hitting presentation."
New Music Connoisseur, Vol. 12, No. 3 – Fall 2004 ( Full article )